Every single day, thousands of pieces of equipment are moved from one site to another, in order to keep operations at these various sites moving along smoothly. It takes well-trained and knowledgeable professional workers to haul this equipment all across the country to where it needs to get. When some amateur tries to move this large equipment, it can spell disaster – mostly because untrained folks have no idea what they're actually doing. Here are a couple of reasons why large machinery should ONLY be moved by professionals.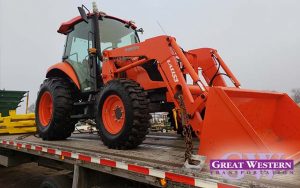 #1: Safety
These large pieces of machinery can weigh hundreds of thousands of pounds at times and when that is combined with a fast moving truck moving 60 MPH or faster down a highway, it creates a potentially catastrophic situation. Professionals know how to load this equipment safely and what to look out for when driving to avoid catastrophes. Unlike the pros, amateurs have no idea how to bolt this equipment down or what they need to watch for and are likely to follow the approach of "If it's in the truck and I'm still driving then it's fine" which is an approach that has disaster written all over it.
#2: Price
From a financial perspective, it does not make sense for a construction company or any other that makes use of this equipment to also own their own trucks or transport vehicles. The costs that result from having to hire their own drivers, pay for insurance fees and potentially deal with legal issues from accidents will far exceed what these companies would spend on simply hiring drivers from a company like Great Western Transportation to move their gear for them.
#3: Avoiding Damage
When hauling is relegated to unprofessional haulers, your equipment risks arriving at its destination with a number of dents and dings or worse. Your equipment costs a lot of money so it really benefits you to have your equipment transported by professionals who have significant prior experience moving heavy gear.
Virtually any businessman will tell you that hiring the right people for a job is a sound investment. If you need heavy equipment transported safely by experienced personnel, contact us today!