The process of transporting heavy equipment requires attention to details in the auto shipping industry. Today, advancements in transport make it possible to deliver your heavy equipment wherever it is needed, anywhere in the nation and also overseas.  Besides, the use of shipping services is prevalent in many industries and manufacturers. Before you start planning on how to get your dozers, excavators, and any other heavy equipment loaded for transportation, you will need to know a few things.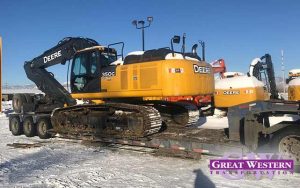 Know Dimensions of the Equipment
The shipping company you're using will need exact measurements. Furthermore, in most states, dozers wider than eight-feet six inches will usually call for oversize permits. Essentially, it is not possible to reduce the width of the dozer to fit within the set width standards.
It is also possible that your dozer will as well challenge the state set height limits. Obtain these measurements (from the top of the cabin to bottom) in advance and plan appropriately. Again, the maximum allowed height with depend on the trailer that is being used. Safety banners come in handy when transporting oversize cargo. Further, you can also use hazard lights and signage.
Additionally, you need to prepare heavy equipment for transportation:
Do not expose the stack to the chance of wayward debris falling through the smokestack of the heavy machinery during shipping. Mitigate against the risk by covering the chimney.
You will want your machines to start on arrival at the destination. As a precautionary measure, unplug batteries to prevent them from draining.
It is a certainty that the wind will force unlocked doors to flap during transportation. It is vital to secure the doors tightly either by latching them or zip tying the doors shut.
Debris will unquestionably add to the weight of your equipment in addition to obscuring handholds. Wash the machines before getting to ship them.
Proficient shipping agents versed with the required needs can provide safe transport of your heavy machinery. Avoid the hustle of having a checklist by using a reputable firm!