There are so many ways to transport freight. How do you decide which one is the best for your shipment and your customers? By learning about each method's advantages and drawbacks. Here are three things you need to know about dry freight (also known as dry van) shipping:
The Most Prevalent
Most freight transportation on the roads today is dry freight transportation. What does "dry freight" mean? Simply that the cargo area is a large, enclosed space suitable for hauling non-perishables such as clothing, furniture, and food that doesn't require refrigeration. Dry freight shipping is the most versatile means of shipping, since it can haul such a wide variety of items. Therefore, it is the most commonly-seen form of freight transportation today.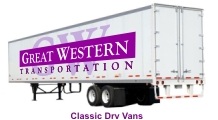 Safest for Cargo
Because of dry freight's nature as an enclosed storage facility, items shipped by dry freight enjoy a relatively problem-free trip to their destination, protected from inclement weather conditions and theft. In fact, freight claims are quite low for shipments transported via dry freight, so worries about the safety of your freight are kept to the bare minimum. Be sure that your transportation company has dry freight trucks with industry-standard measurements so they are capable of hauling the maximum of 45,000 pounds (or 26 standard pallets).
Accommodates Full Truckload or LTL
Dry Freight shipment is ideal if you don't have a full truckload because you can easily share cargo space with somebody else, thereby increasing your efficiency while also saving a considerable amount of money.
At Great Western, we are more than happy to help you if you have a partial shipment by being as accommodating as possible. Our experienced operators command a fleet of industry-standard dry freight trucks and more. Email or call us today at 1-800-972-8484 to discover why Great Western is your Premier Trucking Service.