As one of the leading transportation services, Great Western Transportation offers a variety of transportation options and other services for businesses like yours. With the variety of transportation services we offer, we are sure to meet any need you may have including moving heavy machinery for construction jobs and manufacturing and transporting LTL shipments.
At Great Western Transportation, our range of transportation services also include:
Heavy Haul Trucking: With this transportation service, we are able to transport heavy machinery and other equipment that may be overweight for other transportation methods.
Flatbed Trucking: With this transportation service, we are able to transport special materials or equipment that are considered overweight or too wide, but can still be transported legally. Flatbed trucking is often used to move time-sensitive shipments and construction materials.
Dry Freight Trucking: When dry freight trucking is used as the preferred transportation method, we will be able to successfully transport a variety of shipments using LTL or FTL trucking.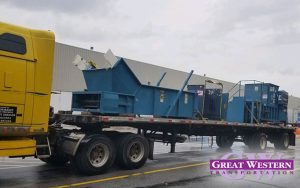 We take pride in being able to offer a transportation service that can transport a variety of shipments based on the unique needs of clients all over the world. Our transportation services are available for the following shipments(and more):
Heavy equipment and machinery
Loads that are considered oversized
Construction and building materials
Steel equipment
We understand how important it is to have a legal and safe transport, regardless of the shipping method that has been selected. It does not matter if we are transporting using Power Only Trucking, LTL Trucking, or Flatbed Trucking, we are able to transport goods and equipment in a timely manner at a price you can afford.
If you have simple or complex transportation needs that need to be met, please do not hesitate to reach out to us at any time to find out about the services we can offer you.