The process of shipping construction equipment calls for attention to details. But, before transporting construction equipment, it is necessary to have a few things in check. Among them is getting the right transporters. Below are a few tips for safely shipping construction equipment.
Get a Reputable Transportation Company
Shipping heavy machinery is not a job for everyone. It calls for expertise, experience, and skills. Professional transporters will know what to do when loading the motor to the trailer, during transportation, and when offloading. A good transportation company has the ideal tools and equipment to carry out the shipping seamlessly.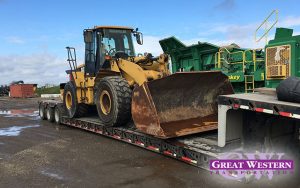 Get the Right Dimensions of the Construction Equipment
Once you have settled on a particular shipping company, you will need to send the dimension of the equipment to the shipping company. With these details in check, the shipping company will know the kind of tools and equipment to have handy. When transporting bulky goods, it is necessary to have safety banners.
Get a Transportation Permit
Make sure you apply for the right state permit from the beginning. A transportation permit means that your cargo complies with all the necessary state regulations and federal routes.
Prepare the Shipment for Transportation
Although the company will ensure that the equipment to be transported is placed appropriately, the customer has to prepare the material. That ensures the machine does not get damaged during shipping.
The manual of the equipment always stipulates how the preparation should be done. There may be measures to be taken when carrying out the work. The owner should be cautious about following through the safety guidelines.
Get the Right Trailer
You need to get the right trailer ahead of planning your route and getting transportation permits. There are different kinds of trailers for different types of tasks. Some of the trailers often used include flatbed, extendable drop deck trailer, and lowboy trailer. Your transportation company will guide you to the ideal trailer, depending on your cargo.
The mentioned tips will help you safely ship your construction equipment. Feel free to contact us if you have any queries regarding shipping construction materials. Our team of professionals works around the clock to offer top-notch service.