Heavy machinery, whether for construction jobs or manufacturing purposes, is delicate and should be handled with extreme care. At Great Western Transportation, we understand how great an investment heavy machinery is. This is why we go the extra mile to keep your investment safe and in good condition during transportation. We do this by adhering to our five stages of transporting heavy machinery
Before we set out to transport any heavy machinery, we like creating a clear picture of what is expected during the process. This is what our planning stage is all about as well as analyzing the heavy machinery requirements and addressing expected transportation challenges.
Stage 2: Selecting The Suitable Transport Vehicle
Depending on the characteristics of the heavy machinery being transported, we will find the most suitable vehicle for transportation. Our wide range of flatbed trucks, heavy haul trucks, and special trucks provides us with exactly what we need.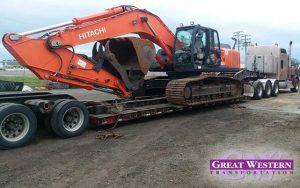 Stage 3: Noting Heavy Machinery's Important Data
After finding the most suitable vehicle to transport heavy machinery, the next step is to understand the heavy machinery being transported. We note down all crucial data such as the dimensions and weight to ensure that it is handled properly when being transferred onto the transport vehicle.
This is the most significant safety precaution we take when it comes to transporting heavy machinery. We ensure that after the cargo is loaded on to the transport vehicle, it is appropriately secured before any journey begins.
Stage 5: Legal Requirements Compliance
Before any heavy machinery transportation journey is approved and released, all legal requirements must have been met. We ensure that our transportation process is in line with all requirements, and no laws are violated from the state of origin to destination.
With over 100+ years of combined experience in transporting heavy machinery, we guarantee an exceptional experience. Contact us today to have your heavy machinery transported.