Equipment shipment is crucial in making the economy what it is. Companies have to rent and purchase a variety of equipment for construction, manufacturing, retail, and more. The equipment that is being transported has to arrive on time and it has to arrive to the destination undamaged. Generally, the transport of the equipment will be moved from Point A to Point B by truck.
There will be times when equipment shipping will have specialized guidelines and requirements that will need to be followed. When a company needs to transport equipment of any type to a location, the company will depend on the transportation service they have selected to handle the logistics of their transportation needs.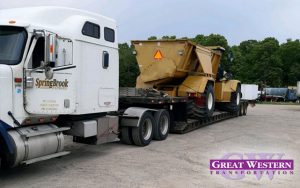 Today, it is not difficult to find a reliable transporter that has the ability to your construction equipment. In the majority of cases, anyone who is looking to ship large and heavy construction equipment will use ground transportation or water vessels. It is unlikely that you will find any damages to your equipment, but the transportation service you select should have the proper insurance coverage that is needed to cover the cost of repairs or replacements.
As you are aware, equipment can vary in weight and in size, but there are transportation services that has the ability to ship anything you need transported. At Great Western Transportation, we arrange equipment shipping transportation services for the following:
Construction shipping: scrapers, bulldozers, excavators, cranes, heavy trucks, and more
Manufacturing equipment: forklifts, cherry pickers, etc.
Agricultural equipment: tillers, tractors, mowers, etc.
There are various benefits to using a professional transportation service for construction equipment deliveries. When you hire a transporter with experience in the type of shipments you need to transport, everything you need to ship will have a safe delivery process from Point A to Point B.