North America is a big place with a lot of wide open space, and with a lot of open space there is a lot of room for expansion.  Cities continue to sprawl out from their centers and with that kind of growth comes the need for excavation and construction.  When new neighborhoods are built it's not like the equipment needed to level the land, haul off dirt, or dig basements is already there.  It has to come from somewhere.
As cities grow, they usually spread outward, and often follow the contours of the land.  Geological features such as lakes, hills, rivers, and even railroad grades can affect just where things are built.  But one thing is generally certain, wherever you are building is going to require a way to get your equipment there.  Trucking is crucial in new construction.  Whether it is bringing in new construction materials or hauling out demolished materials trucks are necessary.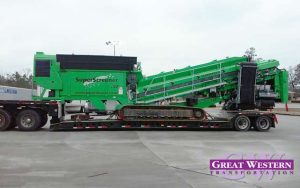 Over-sized construction equipment cannot simply be driven in on its own. Some pieces of equipment are not even self-propelled! Due to weight limits for bridges, the structural integrity of asphalt, and simply the hazard of creeping along in a large, dangerous piece of equipment, you will need trucks to haul in these vehicles and equipment.
Great Western Transportation can help you with your over-sized vehicle and construction equipment needs.  Here are just a few applications for trucking in construction:
Excavators
Front end loaders
Graders
Dump trucks
Cranes
Powerplants
Raw materials
Lumber

Steel beams
Roofing materials
Concrete
Spools of wiring
Pipes and sheet metal
Landscaping

Operations/foreman modulars
Scrap and debris
Port-o-lets
Water tanks
So whether it is heavy payloads such as a D6 Caterpillar or a truck load of roofing tar, a heavy hauler truck or flatbed is exactly the right tool to get the job done.  Great Western Transportation is your go-to source for providing professional, skilled, and reliable service for your construction needs. Wherever there are roads, we've got you covered.