Two of the key elements of safely transporting heavy machinery are logistics and planning. Oversized loads can present a variety of transportation challenges that may require more than one method of transportation. Thankfully, with careful planning and the right tools, you will be able to safely move your heavy machinery.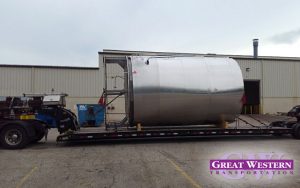 Tips for a Safe Transport
Consult with a professional transportation service to learn more about safe heavy machinery transportation
Do not forget about special guidelines and requirements that may arise during the transport
Plan ahead
Secure the necessary permits ahead of time
Have a clear understanding of the transportation route
The safe transport of your heavy machinery will mean more than ensuring the machinery is operating efficiently. Safe transportation of heavy machinery will also mean ensuring the machinery goes through each state safely. Also, safe transportation means ensuring that everyone you are sharing the road with will be safe.
A professional transportation service will ensure you have a reliable and cost-effective transport of your heavy machinery. It is important to choose the right transportation service when you are looking to transport any type or style of heavy machinery. At Great Western Transportation, one of our missions is to exceed all of your expectations. We are committed to ensuring your heavy machinery arrives at the destination you have chosen.
We can work with your team to provide a full plan for the heavy machinery, from the early stage to the final stage. It does not matter what type of heavy machinery you will need to transport, one of our specialists will be able to help you. Please do not hesitate to reach out to us today to request a quote.
We can perform jobs of various sizes. It does not matter if you need to use one piece of equipment or if you need to completely relocate, we are here to help you.