At Great Western Transportation, we are not just a dependable and structured heavy hauler. Great Western Transportation can also provide the advice and heavy equipment transport you need to successfully move heavy equipment over short and long distances. It does not matter if you have plans to move heavy machinery, oversized cargo, or anything in the middle, we have the resources to precisely handle whatever you throw at us.
We have the ability to expand our reach globally, and this gives us the opportunity to fulfill all of your heavy haul trucking needs. One of our main goals is to partner with you and ensure you have a high level of success in an ever-changing and competitive market. Special attention will need to be given to heavy haul equipment that needs to be transported. Transporting this type of equipment can sometimes present multiple challenges.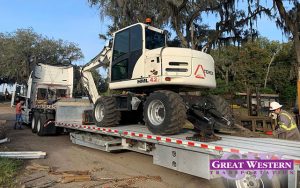 With this in mind, heavy haul trucking will rely on the right transport services to move loads and materials from one location to another. When you have a clear understanding of the types of heavy haul equipment, you will have a higher chance of finding the best heavy haul trucking service that will be able to fulfill the specific needs and guidelines you need to meet.
When it comes to finding the transportation service to haul your equipment you will need to consider permits, routing, and the handling of the cargo and materials. The right heavy haul trucking service will be able to provide you with the ultimate solution you need. The heavy haul trucking service you need will have access to the resources you need when you need them. We specialize in heavy haul trucking, shipping construction equipment, transporting heavy machinery, and more.
Reach out to us today to find out how we can help.