Many people who see a large bulldozer on a construction site ask themselves, how do they get that from one job to another? Well, it's not easy, but professional haulers like Great Western Transportation make it look it.
Bulldozers can range from 5 ton to over 70 ton. Depending on the size of the dozer, different options are available in shipping it.
Generally, large equipment like bulldozers are shipped overland on a flatbed, stepdeck or lowboy trailer. There are other ways of hauling large equipment, such as by air, train or water, but those aren't as cost effective as with a flatbed, stepdeck or lowboy trailer and can be downright impossible sometimes.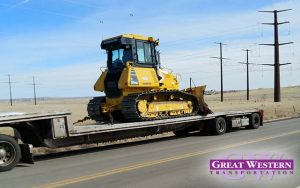 Bulldozers are often moved across the country, whether from job to job or from one owner to the next. Dozers keep the country running and in order to move them a lot of effort is sometimes required. The majority are slow moving and run on steel tracks making road travel with them impossible and illegal, so even short trips over the road require large trucks to move them.
Due to their large size some bulldozers require an oversized load permit. An oversized load is defined as any load more than 8.5 feet wide is, and with few exceptions will require a state permit to travel on public highways. The weight of a bulldozer can also often times exceed many truckers legal ability, so make sure you find a trucker who can legally and safely haul your dozer.
If you are looking to have your bulldozer hauled, it is best to get accurate dimensions of it in order to get an appropriate quote. Also, make sure the equipment is working properly and functions as it should, so that it can be moved quickly and safely on and off the trailer.
If you need your bulldozer or any other piece of equipment shipped and would like a quote or information contact us at Great Western Transportation!