It can take numerous inspections, repairs, maintenance, licensing, and other procedures just to properly prepare a trailer for the highway. When the load that you need to carry is not your standard load, it will require a great deal of effort to keep the transport safe throughout the entire process.
Hauling and transportation companies like Great Western Transportation offer our expertise for the jobs that are too difficult for you to handle on your own. We understand how risky it can be to transport a heavy and oversized load. We help to minimize the risk that a heavy load will be stuck on a busy route or be involved in an accident or other serious situation on the highway.
Safety and Security
Specialized transportation services understand that states and cities have their own regulations and requirements when it comes to the weight of a load. It is very important to make sure the overweight permit requirements are met before a load attempts to cross that jurisdiction. When you do not have an experienced transportation service on your side, there is a high chance that the load will not be allowed in an area if there are questions about safety.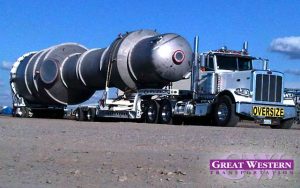 Breaking it Down
There are many trailer loads that are not able to be broken down into shorter or smaller parts. However, hauling companies that are specialized in hauling equipment have a full understanding of how to successfully get a load to the required size and weight so it can be transported safely and easily. As mentioned above, there are complex requirements when it comes to permits and weight size. This is why it is important to have a transportation service who has drivers who are able to drive the load safely to its final destination.
If you have used a transportation service in the past, you are aware of the inspections, permits, repairs, etc. that are involved. The Great Western Transportation team is fully aware of the requirements that must be met and we want to release the pressure you may be facing for an upcoming transport.
If you want to know how we can assist you with your upcoming heavy haul, reach out to us today.