There are many transport options when it comes to shipping heavy construction equipment. Two popular methods to ship heavy machinery such as cranes, excavators, and bulldozers are flatbed trucking and heavy haul trucking. Which is better?
FLATBED TRUCKING
Using flatbed trailers allows you great flexibility in transporting your construction equipment because it carries loads that are wide, over length, oversized, overweight, or any combination of these load types. Flatbeds are ideal for transporting heavy loads and equipment that are not delicate or vulnerable to precipitation such as construction equipment, for example. Sometimes, items will be covered with a tarp to prevent weather from damaging the freight. Flatbed trailers may be unloaded from the sides, from the top, or from behind, making unloading easier.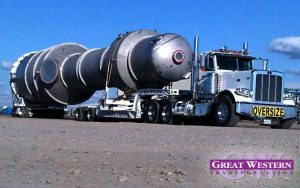 HEAVY HAUL TRUCKING
If your shipment is too tall, wide, or heavy, then it's best to go with heavy haul trucking. A heavy haul truck consists of a truck tractor with an attached trailer. When using a heavy haul truck, the load will need permits (in terms of length, width, height, and weight) set for a particular state. When hauling a heavy haul load, it could take a few hours or a couple days to get permits depending on the state.
WHICH MODE OF TRANSPORT IS BETTER?
It depends on your shipping needs. If you have construction equipment that is heavier, taller, longer, or wider, it's best to get a heavy haul truck. But if you just have equipment that meets the routine permit limits, a flatbed truck should be sufficient.
Here at Great Western Transportation, we have an experienced team that has the knowledge and access to required equipment necessary to meet your heavy haul trucking needs. We also specialize in flatbed trucking with a variety of trailer types that are designed to fit the many needs required by different shipments either based on size or how they need to be loaded.
Need your construction equipment transported? Contact us for a quote today.