Backing up a commercial flatbed truck can be a very dangerous task, especially if you are new to the field. We are passionate about safety at Great Western Transportation. Since we're the leader in the industry when it comes to offering complete trucking services, we've gathered some helpful tips for drivers who need to safely maneuver their large vehicle. Read on to learn more about how you can safely backup a flatbed truck.
Tip #1: Always be on the lookout for cross-traffic
Our first tip is to be alert and constantly check the road for cross-traffic. We recommend that you never back up the flatbed truck into an intersection unless there is no other option. You should also make sure there is enough space around your vehicle. When in doubt, get out of the truck to look at the situation up close to see if you have enough room.
Tip #2: Backup as slowly as you can
Take your time when you are trying to backup into a loading dock or next to a building. One wrong move could damage the building or the vehicle.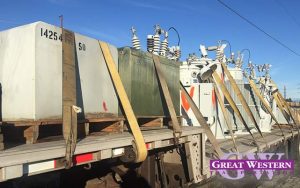 Tip #3: Make sure the space you are entering is wide enough and high enough
You should always be aware if your flatbed truck can clear what's on the road. After all, you don't want to get stuck. Check to see if there is enough clearance so you can safely backup the truck.
Tip #4: Don't rely on mirrors
Another tip is to not rely solely on mirrors. Mirrors can do not show accurate depictions of where items are around your vehicle. Get out of the truck sometimes to observe the situation to make sure you can move the car without incident.
Tip #5: Avoid blind alleyways
Never back the flatbed truck up into a blind alleyway or any other area where you can't see too well.
Tip #6: Always give others behind you the right of way
If  someone is behind your truck, regardless if it's a vehicle or a person, err on the side of caution and give them the right of way before you start to backup the vehicle.
Contact Great Western Transportation
For more information about our services, please contact us today online or call us at (800) 972-8484.