Flatbed trucking and hot shot trucking are both used to move various goods from Point A to Point B, but there are not many other similarities between the two. If one had to choose between flatbed trucking and hot shot trucking, the odds will fall in favor of flatbed trucking. If you perform an online search inquiring about flatbed trucking transportation services, you will be sure to find a service in your area.
However, it is critically important to choose the flatbed trucking transportation service that will serve your needs. Flatbed trucking services have incredible advantages over hot shot trucking services. With so many options on the table, we understand how difficult it can be to choose the right service for your needs.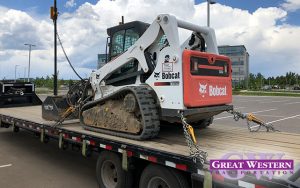 A hot shot trucking service uses personal vehicles from drivers to move your goods. Hot shot transportation services will generally use trucks and vans to transport your goods. Hot shot trucking services are growing because of the ease of use and the quick shipments. For those who have a strict deadline for their goods, hot shot trucking is a preferred option for many.
However, there are many reasons why flatbed trucking services have proven to be more beneficial and effective. When you make the decision to use flatbed trucking services, you will partner with a service that can safely move your cargo, regardless of the size. Flatbed trucking services have the ability to handle heavy and oversized freight.
When using flatbed trucking services, you will not have to worry about not having enough space for your large freight. Although hot shot trucking services will use trucks and vans, there will generally not be enough room to handle your freight every time, especially during the peak shipping seasons  When you choose flatbed trucking services, the size of your freight will not be a problem.
When you have to move shipments that cannot be safely transported using hot shot trucking, you will need to find a trucking service that will be able to fulfill your shipping requirements. Flatbed trucking services can easily accommodate items that cannot be moved using other trucking methods.
For more information on flatbed trucking services, give Great Western Transportation a call today at 1-800-972-8484.