Hauling heavy equipment and large items is a job that should always be reserved for the best heavy haul trucking company your money can buy. Finding the best company for the job is not always easy, but our experienced team at Great Western Transportation has the knowledge and expertise required to guide you through the decision. Here are three tips that help you hire the best heavy haul trucking company for your shipping needs.
1. Read customer reviews
You can learn a lot about a company by searching for their history of customer reviews. Check for any complaints, testimonials, good reviews, or awards they have received in the past for any heavy haul trucking services they have provided. Remember, working with a bad or incompetent company can put your assets at risk, so it's best to learn about a company through customer reviews so you can sort the good trucking companies from the bad ones.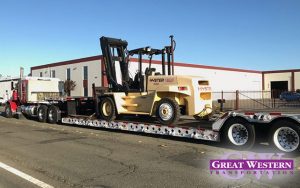 2. Make sure they have the best tools to ship your equipment
Never hire a heavy haul trucking company unless you are sure they are capable of shipping your equipment. Tractors, bulldozers, cranes, loaders, and excavators are some of the most commonly used equipment tools for shipping. If you plan on shipping sand, dirt, or anything similar, you will probably need a dump truck for the job. Always make this one of the first things you do before hiring a heavy haul trucking company as it will save you from wasting your time (and a lot of money, too).
3. Proven track record
Besides having great customer reviews and the best equipment to ship your items, you should always choose a company with a proven track record of success. Companies with an extensive track record of successfully hauling their customer's items from one location to another will have better knowledge and expertise of industry regulations and specialized shipping.