Heavy equipment like shovels, tractors, bulldozers, dump trucks are essential pieces for any major construction job. Ensuring this construction equipment arrives where it is supposed to be, on time, is not always an easy process.
While larger companies may have their own vehicles used to transport equipment, there are smaller companies that will not have the vehicles that are needed to transport the construction equipment. There will be many times when a lack of knowledge or a lack of experience in the shipping process can cause a variety of problems.
We want to dive into some construction equipment myths that we hear about in the industry.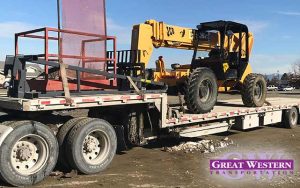 Shipping Construction Equipment Is Not Safe
Many businesses are worried about shipping construction equipment because they feel it is unsafe. While they are very expensive pieces of equipment, experienced transportation services have the skills and knowledge that are needed to transport your construction equipment safely. If any business is worried about the safety of their construction equipment, you should not hesitate to ask the transportation service provider about the methods they use to transport the construction equipment.
Pricing Is Inconsistent
Shipping construction equipment does not have to be inconsistent if you are partnering with an experienced transportation service provider. If you discover that the shipping prices are inconsistent or unpredictable, it could be because the transportation service you are considering does not have enough experience to give you an accurate quote. It is important to make sure you hire the right provider for the job.
I Should Always Choose The Lowest Price Option
One of the common mistakes that many businesses make in regard to shipping construction equipment is choosing the lowest priced option because they do not feel it makes a difference. We understand you want to make money and save money so the cheapest shipping option would be something you would consider. However, choosing a transportation service provider because it is the lowest option may not result in the best services. If you are offered a low price to ship your construction equipment, this could result in you receiving low-quality services.
Great Western Transportation has the knowledge, skills, and resources to successfully transport your construction equipment from Point A to Point B. Contact us today for a quote or any questions you may have regarding shipping.