Driving a backhoe, bulldozer, or tractor down the highway isn't the best way to get it where it needs to go. Doing so would be slow and expensive; they're not made for traveling long distances on their own. And of course, some heavy machinery doesn't have its own wheels and engine—it's just big! When you need to get heavy machinery from its home base to the construction site, trade show, farm field, or anywhere else, you need heavy haul trucking or, possibly, flatbed trucking.
Flatbed trucking works for smaller, lighter machines, like small tractors or boats. If you're transporting heavy machinery that exceeds the size and weight limitations of flatbed trucking, heavy haul trucking is required.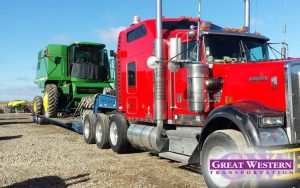 Heavy Haul Trucking for Transporting Heavy Machinery
There are a variety of materials and pieces of equipment that may require heavy haul trucking. These include:
Cranes
Tractors
Excavators
Generators
Planes
Boats
Turbines
Bridge Beams
Compressors
Manufactured Homes
And More
Do You Need Heavy Haul Trucking?
For these massive loads, you need a truck and trailer that can manage the size and weight. If the load is oversize (a term that is defined differently from state to state), you may need certified Pilot/Escort Vehicle Operators to accompany your load. These professionals help ensure the safe transport of your heavy machinery by managing the trip with consideration to other motorists as well as restrictions you might face because of bridges, roads, wires, signs, and more.
Oversize and overweight loads may require special permits, as well. Again, these vary from state to state. At Great Western Transportation, we manage the logistics of your trip, from determining the right truck and trailer for your equipment to obtaining proper permission, permits, and escort vehicles as required in every state and county along the trip.
If you're unsure as to whether your load requires heavy haul trucking or if you can manage with flatbed trucking, contact us. Over the years, we've transported all sorts of heavy machinery and can help you determine the safest, most cost-efficient way for doing so while keeping within all legal requirements and regulations.