In the trucking industry, the name of the game is to get what you have to the place you want — and to do it in the safest, most efficient means possible. At the heart of this motto, is refrigerated trucking. At Great Western Transportation we offer refrigerated trucking that in a timely and safe manner, keeps your time-sensitive materials in pristine condition.
What is Refrigerated Trucking?
It is a shipping method that specializes in transporting goods and various items of perishable worth (food, specimens, etc) in a temperature-controlled environment. Each trailer is refrigerated and specially insulated to provide optimal safety and control.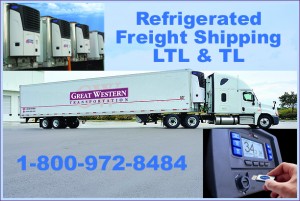 What are the Benefits?
Your goods will have a variety of benefits when packed in a refrigerated atmosphere:
Protection: Long haul, heavy truckers drive all over the country. A temperature controlled climate can keep easily-perishable goods from spoiling quickly.
Temperature Control: Refrigerated trucks are built to specifically keep your haul at a certain temperature. So no need to worry about over-freezing or under-cooling.
Value: Fresh goods are valuable. Refrigerated trucking offers consumers the opportunity to eat fresh fruit or vegetables from across the country without fear of spoiling.
What do we Offer?
Whether Full Truckload (FTL) or Less Than Truckload (LTL), you want a service that offers variety for your freight. And that's what we do. Frozen or chilled; Great Western Transportation has you covered. With up-to-date refrigerated trucking trailers, our certified professional drivers will deliver our freight on time and in prime condition. Our 53-foot trailer trucks/vans provide:
Maximum cube and bulkhead capability
Suspension-system cushions that keep your goods in top condition
Able to deliver goods from -20 to +90 degrees Fahrenheit, and hold it at your convenience until pickup
And more!
At Great Western Transportation, we have over 100 years of industry experience. Trust the professionals, and contact us for your refrigerated trucking needs.