When you have a large piece of equipment, or other heavy cargo, that needs to be shipped to a job site, you will likely call a heavy haul trucking company to do the job. They have the right type of trailer, a powerful semi tractor and a qualified driver ready to take care of your load. Before they arrive, however, there are some things that you need to do to ensure that the process is smooth and trouble-free for everyone involved.
Loading Procedures
Heavy haul trucking companies generally have several types of trailers to choose from. These include lowboys, goosenecks, drop deck trailers, and standard flatbeds. While the company will work hard to provide the correct trailer, the issue of loading is still your concern. Some trailers are equipped with ramps, others are not. You must ask about this, and plan accordingly. If a trailer is lacking ramps, you'll need to load with a crane, or other equipment. If it does have ramps, you'll need a heavy equipment operator on hand to load it. Don't wait until the company arrives to figure this out. Plan ahead and you'll save time, money and frustration.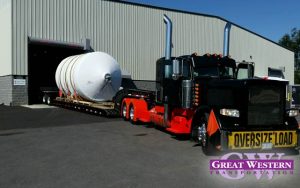 Insurance Coverage
Your heavy haul trucking company is required to obtain, and keep current, a minimum of $100,000 of cargo insurance. However, to cover any potential claims, many companies carry as much as $1,000,000 in coverage. This helps to protect you, as the shipper, against loss or damage to your cargo. As you are well aware, however, the cost of replacement for a vital piece of heavy equipment can easily exceed this amount. Therefore, it's important that you verify the exact amount of coverage the company has. In some cases, you may need to cover the additional amount of coverage, other times, the carrier will. Never ship with any company until this issue has been resolved or you could face a devastating loss.
Routes and Pilot Vehicles
Heavy, and over-sized load transporters face a major obstacle when it comes to route planning. While other loads can be carried on most any roadway, these loads often cannot. It is wise to plan the route well in advance, as well as the time of day it will happen to avoid traffic congestion, construction and other issues. Another thing to address is the need for a pilot vehicle, or vehicles, to escort the truck to its destination. Generally speaking, a load that is very wide, or very heavy will require this additional step. While some carriers will arrange for this service, other times, the shipper is held responsible.
Moving heavy equipment and other heavy haul loads is no easy feat. However, with a little planning and attention to detail, your cargo will arrive at its destination in a safe, time-efficient manner without any problems. Be sure you understand your role in the loading process, check your carriers cargo insurance coverage, and plan the route and pilot vehicles well in advance.