From frozen treats to dairy products and meats, refrigerated trucking companies transport millions of pounds of perishable products every day. Controlling the temperature inside of the trailer is of the utmost importance. That is why they are constructed with a heavy layer of insulation and outfitted with high-powered refrigeration units. Reefer trucks, as they are called, do not freeze, or chill product, what they do is to keep the cargo at the temperature it was upon loading. The summer season, however, presents a unique set of problems for refrigerated trailers.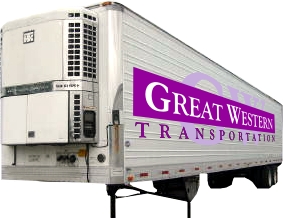 Ambient Heat
When outdoor temperatures soar and the sun is high and bright in the sky, it has a major impact on the interior temperature of a standard trailer. That's not much of a problem, but for reefer trucks, it could spell disaster. If the temperature rises by just a few degrees, product could begin to spoil, or become inedible. Refrigeration units must be continuously operated, and the interior temperature monitored while in transit. What's more, when loading and unloading it is important to do so quickly, so as to minimize the amount of heat that enters the trailer.
High Humidity
When humidity levels are too high within a refrigerated trailer, condensation accumulates on the ceiling, walls and cargo. Once the condensation forms, it either remains in liquid form, or freezes over. In either instance, the additional moisture and ice crystals have the potential to cause food items to become inedible. Safeguarding cargo against this type of damage begins at the loading dock. Trailer doors should be opened for short periods, especially in high humidity situations. Constant monitoring of interior humidity levels allows the driver to adjust the cooling system accordingly.
Increased Demand
It's no surprise that when it's hot out, there is an increase in demand for produce, frozen treats and ice cold beverages. Some private fleets find themselves overwhelmed and unable to keep up, so they seek outside help. That means the demand for refrigerated trucks also increases, which is great for trucking company owners. However, the best companies know how to manage their fleet so that their customers always have options. That may mean partnering with other companies, or brokering loads, or simply keeping the potential needs of their current customers in the forefront.
If you're shipping temperature sensitive cargo, either using your own fleet of reefer trucks, or an outsourced fleet, keep these issues in mind. High heat and humidity can cause a huge amount of damage to your product, and your reputation. Choose a logistics partner that's experienced dealing with refrigerated trucks, and whose drivers are well-trained in their proper care, maintenance and operation.