When you need to transport construction equipment of any kind, you will always want to make sure you do it the right way. You want your construction equipment to be delivered safely and delivered on time. We understand that the construction equipment you own, rent, lease, etc. are essential to your livelihood. It does not matter if you are transporting a tiller, crane, forklift, etc., we want to help you get ready for shipping.
Determine the Construction Equipment Measurements
In order to ensure your construction equipment receives the appropriate transportation service, you will need to know the measurements of your construction equipment. It is important to measure every inch of your machinery.
We know it can be easy to find the measurement specifications listed on the equipment's manual, but measuring the dimensions yourself will give you a better chance of having a successful transport experience. Your equipment will need to meet certain dimension requirements in order to transport it safely.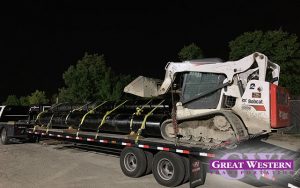 Find the Appropriate Trailers
After you have determined the correct dimensions for your construction equipment, it will be time to choose the appropriate trailers needed to haul the equipment.
After you have obtained the correct dimensions, your transportation service provider will determine the best trailer that will be needed to move your machinery. Sometimes trailers can be too big for the equipment that you want to transport.
Prepare Your Equipment for Transport
Preparing your construction equipment for shipping will ensure there will be no hold-ups when the transportation service arrives. When you are fully prepared, you can expect a smoother shipping process.
One of the best things for you to do when you are ready for the transport process is to clean your construction equipment properly. You may be surprised at how much extra weight construction equipment can hold just from the extra dirt and mud that is stuck to it. It is safer to transport construction equipment that has been cleaned thoroughly.
The manual for the construction equipment should provide you with recommended instructions for preparing your equipment for transport. When you follow the recommended steps for shipping or transport, you will have a successful construction equipment transport process.