The winter season is one of the most difficult and challenging times of the year for the transportation service industry. There are cold temperatures, unpredictable road conditions, and other hazards that can result in delayed shipments and product shortages. The transportation industry is governed by the impact of the weather than any other industry because the weather-related problems can cost the transportation and trucking industries billions of dollars per year.
We do not want your business to be one of the many businesses that may face weather-related challenges this year. Put on your warm winter coat and get ready to take on any challenges the weather may throw at you by doing the following:
Tip 1: Plan Early
Nearly every business will face some form of winter-related impact, but the online businesses and retailers will likely feel a greater impact because they are the most vulnerable. This is why we encourage you to plan ahead so you can take the proper precautions against the weather. When you do take the right steps to plan ahead, you will have the tools you need to evaluate everything more distinctly.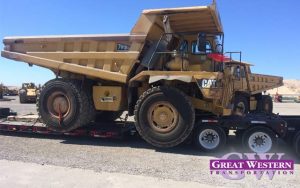 Tip 2: Be Ready for Possible Delays
The weather-related conditions and the poor road conditions are only two of the possible reasons why shipments can be delayed. The winter season will also have an impact on the traffic, in addition to the holiday season. The holiday traffic and the endless number of orders can place restrictions on the drivers from getting to their destination when they need to be there. We encourage you to plan accordingly and create some flexibility when you are setting your shipping dates.
Tip 3: Keep The Lines of Communication Open
We are aware that delays are going to come during this time of the year, but when you have an open line of communication between your business departments, your suppliers, and your transportation service, you can reduce the impact that the weather will have on your operations. When you are aware of what the potential challenges may be, you will be able to create strategies that will allow you to make your way around those issues.
You will need a transportation service that will offer you every opportunity to have a successful transport this season. You will want a transportation service provider that will be able to make its way through the difficult challenges this upcoming season will bring. Do not be left out in the cold this season without the right protection.