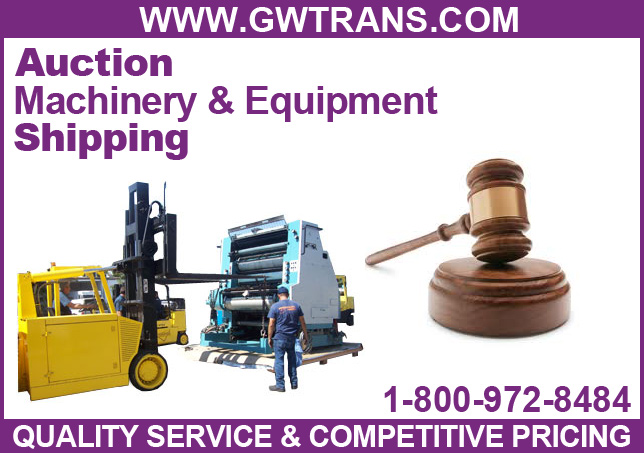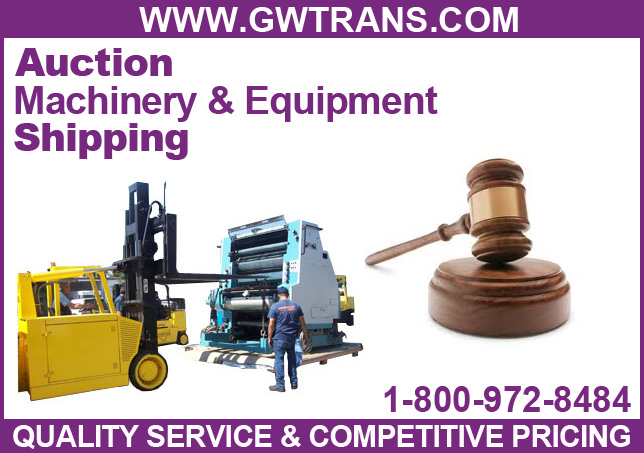 Before we go into the particular requirements of shipping heavy equipment and machinery purchased at auctions or consigned at auctions, lets look at the way auctions have evolved from brick and mortar facilities to worldwide on-line electronic bidding outlets.
Long before on-line heavy machinery auctions like: IronPlanet, Ritchie Brothers, Machinery Trader and Rock and Dirt; auctions began around 500 BC with the concept of the highest bidder acquires the item that is being auctioned at that price. This method of buying and selling was selected, as it is a time-proven, and fair method of commerce.
In 2008, the National Auctioneers Association reported that the gross revenue of the auction industry for that year was approximately $268.4 billion, with the fastest growing sectors being agricultural, machinery, and equipment auctions. Heavy machinery and equipment is the fourth largest sector in auctions. The major auction companies being: Ritchie Brothers, IronPlanet and Machinery Trader. With all this auction activity the equipment has to be transported to the auction yard and then the heavy equipment is shipped on to its new owner.
Using a brick and mortar, with an online presence, auction company to sell heavy equipment and machinery has become very popular in the past few years. This provides the sellers a chance to sell all kinds of items anywhere in the world via the internet. Today heavy machinery shipping is easily accomplished via heavy haul trucking, rail or shipping containers for worldwide delivery.
Tips for those wishing to sell (consign) via heavy equipment auctions.
Choose the type of auction.
The selection is between a brick and mortar auction house or an on-line auction. On-line auctions can present your equipment to new buyers and markets and eliminate the need to transport the equipment to the auction site, the buyer will pick up the equipment at its current location. Thus, the only shipping required will be to the purchaser via a heavy haul truck.
Research the various auction companies.
Various auction companies have slightly different offerings, strategies and rules. Different buyers are attracted to different auctions primarily based on the types of equipment the auctions consign. Thus research each auction company, then decide which is the best fit for you and your equipment. If possible ask others who have had some experience with the various auction companies serving the heavy equipment market.
Arrange to have the equipment inspected.
The auction company may be able to help you in hiring a mechanic or may have mechanical inspectors available who guarantee the condition of the heavy equipment consigned. The auction company may make this information available to bidders before the auction as a preview option and to assure buyers of the condition of the equipment.
Attend the auction first.
Make plans to attend a live auction prior to you utilizing the auction, and log in frequently to their online auctions, to see what bids are being made and what equipment is currently listed. For those consigning their equipment for the first time it is mandatory that they monitor or attend the auction company they wish to use in the future.
Receive payment and arrange transfer of equipment.
As part of facilitating the auction process, the auction company will invoice the buyer and provide all required purchase paperwork. The buyer will transfer money to an escrow account and the auction company will notify you to release the equipment. Once the condition of the equipment is confirmed and the buyer receives equipment, you will receive the payment. In case of an on-line purchase the buyer should arrange transportation from your lot via a heavy haul trucking company. It is important for the auction company to mediate any disputes about the condition of the equipment immediately.
Mechanical tips for heavy equipment auction buyers.
Paint
Observe for new paint overspray and painted-over decals that indicate haste in painting or the intent to cover up something that would reveal a problem. Painting equipment is a routine procedure, however, it should not be done to cover up problems that should really be fixed or repaired properly.
New Parts
Inspect mechanical service records for routine or required maintenance that should have been performed in the past. This will give you insight into past part failure and what may have been the cause and what was replaced. Properly maintained equipment will provide a lower cost of operation to the new owner.
Product Identification Number (PIN)
Altering or tampering with the PIN is illegal. Ask for evidence of ownership documentation to verify the PIN. Unlike vehicles, heavy machinery has less ownership records associated with it, thus proper paperwork for proof of ownership is very important.
Recently cleaned or washed machinery
Clean machinery may be the sign of good routine maintenance, or an intent to "wash away" signs of potential problems or excessive wear and tear. Inspect for fresh oil seeps and "new-looking" paint that was, for a long time covered by years of accumulated grease. This could in fact be a sign of long term neglect and lack of routine maintenance.
Ill-fitted parts
Hammer marks, kinked hoses and parts that are misaligned may indicate wrong parts were installed or the parts were not installed properly. Inspect for rust or defective parts or attachments.
Oil tricks
In engines, thicker viscosity oils are sometimes used even though not recommended by the manufacturer. This is done to reduce leakage and seepage. Check the owner's manual for the proper oil grade that is to be used, as recommended by the manufacturer. When possible, get an oil analysis, especially if the oil has a "tackiness" quality to it. Do an inspection underneath the vehicle to check for leaks. Inspecting the engine of the machine is important – is it grimy? If so, that could indicate it has been used for a long period of time. Also, look for soot from smoke, battery corrosion, and of course, leakage of any fluids. In fact, the most typical problem in many used excavators for sale is the engine leaking oil.
Listen to the hydraulic system
How does it sound? Do you smell anything out of the norm, like something burning? How do the controls feel? Do not just look at the used construction equipment for sale but use your other senses as well – what it sounds like, smells like, and feels like. Having some background with heavy machinery is a plus, however owners of a business may not have day to day experience with heavy equipment, so try to get an opinion form a mechanically knowledgeable person.
Just overhauled
Inspect for new gasket edges and shiny metal where parts join to be sure that in fact work was performed and new parts were installed. Inspect receipts for the work that was performed and verify completeness of work and parts.
If it is an excavator you are looking at, be sure to inspect the cab, stick, boom, and bucket. Look for welds on these attachments that look like they were not there when the machine was originally built (out of place welding). The boom and stick should not bend, stick, or twist. Make sure that nothing is bent underneath the bucket; if there is, it could suggest that the excavator was performing jobs that were beyond its operating capacity.
On the moving parts check for slackness between pins in the pivot points. The pivot point between the boom and the body can be very expensive to replace. Also, look at the tracks, undercarriage, and the hydraulic cylinders. How much wear is there on the tracks? If they are near the end of their life that should be factored into the price. The hydraulic cylinders should not be bent or damaged, because if they are that can create a lot of wear and tear.
Minor scratches on heavy equipment up for auction is common and okay, after all the equipment is used. Again, just because the machine is not perfect, this does not mean it is not worth buying. However, you do want to ensure that you are in compliance with any and all safety codes, and of course that the used construction equipment for sale that you buy can actually get the job done that you need it to.
Run and drive it
The buyer should know how to operate the construction equipment for auction prior to making a purchase. As most of the machines sold through auction are pre-owned, they may not come with instruction manuals or appropriate documentation to understand and operate its functions. You may be able to obtain an instruction manual on line, you can research this prior to the purchase.
When the equipment is starting-up look for problems such as: smoke puffs or unusual sounds. If possible, load tractors in all gears once the tractor is warmed up, to check for desired lugging power.
During the performance inspection of the equipment, do not just go for a laid back drive, but perform some lifting, digging, pushing, etc. Operate the attachments – excavators should be able to dig and load well. Ask for a demonstration of the bucket, stick, and boom, and look out for slackness that could suggest parts are worn and require replacing. Also, drive the excavator over a short distance to see if it travels straight and that both tracks are rotating equally.
Contractors equipment
Contractors will at times purchase less expensive agricultural equipment for their more demanding industrial construction purposes. Watch out for points of excessive wear and oversize or heavy duty tires, which are not the standard size for the equipment.
When you are inspecting the used heavy equipment for auction in person prior to the final bid and purchase decision, bring a person with a mechanical background along with you.
Conclusion
The online auction method can be very profitable for many; however, one of the main points to consider before working with a company to auction any heavy equipment or machinery is whether they specialize in the particular type of equipment and machinery you have.
There are numerous heavy equipment and machinery auction companies available to serve buyers and sellers interested in purchasing or selling specific items such as heavy equipment. Finding the right auction company can be a very important decision to make, so take into consideration the following different aspects of auctions.
Construction and Heavy Equipment Specific Auctions
Auctions that are aimed to liquidate industrial and heavy equipment and are restricted to only certain types of heavy equipment and machinery will get sellers more return than less specialized auctions. Both sellers and buyers have a large selection of heavy equipment and machinery available both for browsing and for drawing more people to the auction. Advertising is more effective as it is more likely to be aimed at the appropriate heavy machinery industry buyers.
Reputation and Attendance
A factor to consider when choosing an auction company is their reputation and popularity in the industry; tied in with recent sales results. Closing sales prices that are low can indicate that attendance at the auction may be low. Likewise, high ending prices could affect future attendance at the event, as buyers might think that lower prices might be found at other auctions thus the auction's attendance may fall.
Contractual Obligations and Fees
Be familiar with your contractual obligations, especially any limitations, expectations and expense fees charged by the auction company to organize and conduct the auction. Once you agree to and sign the contract, it is final and cannot be altered. If any portion of the contract has not been understood or certain stipulations have not been included in the contract, it is up to the buyer or seller to make modifications. Thus, it should be carefully reviewed and fully understood before it is signed.
Services an Auction Company Provides
When selecting an auction company to auction your equipment, they should have a website or online presence where items will be available for viewing (with photos) plus research details and information available to the buyers prior to the auction. The additional marketing an online auction provides, will translate into wider exposure to buyers in the market for particular heavy equipment or machinery.
Make sure your equipment is listed with an auction company that lists equipment similar to yours, so the equipment is presented an audience in the market for that type of equipment, this will provide you the best auction results in terms of financial results!
Sales Procedure
The auctioneer has played the same role throughout the years; to auction your equipment to the highest bidder. Now a day the auction process is efficient through technological advancements. Both consignees and customers can benefit from this efficiency with two major processes involved: preparing the assets for sale and distributing sold items to the highest bidders.
Preparing Assets
Sellers believed too much paperwork was involved to auction an item in the past. These days the amount of paperwork now has been reduced, since most information is stored in a database. Now a day, auction items have all the basic information entered into the company's database system. This data is then uploaded to a web server and made available online to the public; making auction items easily advertised, marketed and sold.
Get a Warranty
Attempt to get a limited warranty from the seller or the auction company to cover any mechanical issues that may arise in a determined period of time. This may be a 30-day warranty or 3,000 mile limited warranty; this would be considered a standard warranty period in the used equipment marketplace.
Estimating the cost of delivery of the heavy equipment form the auction yard to the buyers facility or even worldwide shipping can be as easy as obtaining a quote from a heavy haul company. Since today much of the heavy equipment is sold to overseas buyers the shipping and transport or customs clearance costs may be quite considerable, acquiring quotes ahead of time is always necessary. The representatives at Great Western Transportation will fully detail the process of getting your heavy machinery from the auction yard to your final destination. Having a vast background in heavy haul shipping of heavy machinery Great Western Transportation will provide you the expertise required to ship the equipment successfully and at a competitive market rate. One call to Great Western Transportation will get you the quote you need to make a sound purchase decision.
The following is a list of heavy equipment auctioneers.
Affiliated Auctioneers, LLC
Alex Lyon & Son Auctioneers
All States Auctioneers, Inc.
AuctionAZ.com
Bar None Auction
Berryhill Auctioneers
Black Warrior Auction Co., LLC
Blackmon Auctions, Inc.
Bunch Brothers Auctioneers
Burton Auction Company
Cain Auction
Canadian Public Auction
Cat Auction Services
Coastal Auctions, Inc.
Col. Steve Sitar & Company
Darell Dunkle & Assoc. Auctioneers, Inc.
Davis Auctions, Inc.
DeMott Auction Company
Deanco Auction Co. of Mississippi, Inc.
Del Peterson & Associates
Don Smock Auction Co., Inc.
Ehli Auctions
First Capitol Auction, Inc.
First Coast Auction & Realty, Inc.
Fowler Auction & Real Estate Service, Inc.
Frey & Sons Auctioneers
Furrow Auction Company
Garner & Associates
Garry Montague Auctioneers
Gene Motes Auctioneers, Inc.
Global Force Auction Group
Godley Auction Company, Inc.
GoIndustry DoveBid
Graham Auction Company
Graves CIF Auctioneers
Harry Davis & Company
Henderson Auctions
Hilco Industrial, LLC
Hilpipre Auction Company
Hostetter Auctioneers
Hunyady Auction Company
I.R.A.Y. Auction
Iron Horse Auction Company
IronPlanet
J.J. Kane Auctioneers
J.M. Wood Auction Company
James G. Murphy Co. Auctioneers
Keith Babb & Associates, Inc.
King Auction & Realty Co., Inc.
Kissimmee Auction Co., Inc.
L & L Equipment Sales, LLC
Lloyd Meekins & Sons Auction Co.
LVG Auctions
Magnum Auction, LLC
Martin & Martin Auctioneers, Inc.
Martin & Martin of MS
Martin Auction Services, LLC
Mendenhall Auction Company
Michener-Allen Auctioneering, Ltd.
Mid-South Machinery Auctions, Inc.
Midway Machinery & Auction
Miedema Auctioneering, Inc.
Motley's Auction & Realty
Network International
Petrowsky Auctioneers, Inc.
Pro Team Auction Co., LLC
Proxibid, Inc.
Purple Wave, Inc.
Quarrick Equipment & Auctions, Inc.
Rebel Auction Company, Inc.
Ritchason Auctioneers, Inc.
Ritchie Bros. Auctioneers Int'l
Roller Auctioneers
Roy Teitsworth, Inc.
Southeast Auction Company
Stephen Passy & Associates, Inc.
Tauber-Arons, Inc.
Taylor & Martin Auctioneers, Inc.
The Auction Company
TNT Auction
Tri-State Auction & Realty, LLC
United Auctioneers & Appraisers, LLC
Vaughan Auction Group, LLC
VOCON Auctions
Wayne Evans Auction Co., Inc.
Wayne Pike Auction Company
Weeks Auction Company
Western Construction Auctions, Inc.
Western Sales Management
Wolfe Industrial Auctions, Inc.
WorldNet Auctions
Yellow Iron Auctions
Yoder & Frey Auctioneers, Inc.
List of major heavy equipment manufacturers you will find at auction.
Caterpillar
Deere
Case
Komatsu
Bobcat
Hitachi
Volvo
JCB
New Holland
Grove
Terex
A list of the type of equipment you will find at auctions.
Aggregate Equipment
Ag / Farm Equipment (inc. Tractors)
Tractors
Air Compressors
Asphalt / Pavers / Concrete Equipment
Compactors
Cranes
Crawler Loaders
Dozers
Drills
Dumpers
Excavators
Forestry Equipment
Forklifts
Generator Sets
Lifts
Light Towers
Loader Backhoes
Motor Graders
Pipelayers
Pumps
Scrap Processing / Demolition Equipment
Scrapers
Skid Steers
Skip Loaders
Sweepers / Broom Equipment
Trenchers / Boring Machines / Cable Plows
Off-Highway Trucks
Water Equipment
Wheel Loaders
Call or email one of our knowledgeable reperesentatives regarding your auction flatbed trucking or heavy haul trucking requirements.
Let us prove to you that Great Western Transportation is your Premier Trucking Service.
Call us for information about our trucking services or for a rate quote.
(800) 972-8484
(925) 484-9500
Great Western Transportation 5000 Pleasanton Ave, Suite 145 Pleasanton, CA 94566