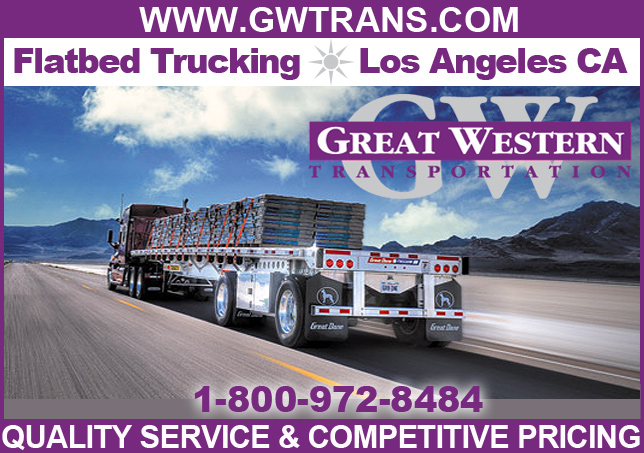 When you have loads or freight that requires a flatbed trucking service for pickup or delivery in Los Angeles CA, then Great Western Transportation is your transportation solution.
Great Western Transportation has flatbed trailer availability that includes all trailer types that are required for flatbed transport.
Following is a list of flatbed trailer types and descriptions.
Standard Flat Bed – lengths of 48 foot or 53 foot, most standard height freight will go on these flatbed trailers. Flatbed trailers are designed for loads that need trailers without side barriers, to allow loading and unloading; common side loaded freight is machinery, pipes, concrete pre-casts, steel coils, etc.
Step Deck or Drop Deck – these trailers are used to haul freight that cannot be transported on a standard flatbed because the freight is high in dimension and may require permits if loaded onto a standard flatbed.
Double Drop – these trailers are generally for transporting over height freight. The lower deck height provides more overhead clearance. This means you can load cargo that is higher than 10'. The longer floor portion of the trailer in the middle is called the "well". The "well" usually ranges from 25 ft. to 29 ft. in length.
RGN or Removable Gooseneck – these trailers give you the ability to move those same high loads or freight. Plus, the ability to drive equipment on and drive equipment off. This can be done because the front of the trailer is removable, which allows the trailer to drop to the ground and serve as its own ramp. These types of trailers can be designed to haul up to and over 150,000 lbs of equipment. RGNs can go from a 3 axle to 20 plus axle, the more axles the heavier the shipment can be in weight. RGN Heavy haul trailers are more specialized than the common flatbed trailer, this makes them more expensive to maintain and operate.
Hydraulic Tail or Landoll – the trailer has the ability to create a ramp for equipment to roll onto and off the trailer. This is achieved by hydraulics lifting and lowering portions of the rear of the trailer to create a ramp.
Landoll is a brand name for a traveling axle trailer configuration. This trailer configuration has hydraulics that move the axles so that the trailer bed slopes and creates a ramp. Traveling axle trailers are used for: towing, construction, agricultural, rental, material handling, salvage and container transport.
Conestoga – this is a brand name for trailers that have a rolling tarp system that can quickly cover and uncover the flatbed trailer. The rolling tarp provides protection from the elements of the road and weather for loads or equipment that require flatbed transport.
Specialized trailers: specialized trailers are used for heavy haul of oversized, over-dimensional, overweight or super loads. Some oversized and over dimensional pieces simply will not fit on standard trailers; specialized trailers are specially designed for these loads. These types of trailers are those such as perimeter trailers, perimeter frame double goosenecks trailers, dolly trailers, etc.
There are well over two-dozen flatbed trailer types to accommodate all types of freight and loading requirements.
At Great Western Transportation we guarantee that a highly trained and experienced transportation consultant will place your freight on the proper flatbed trailer for transport.
California has a large amount of flatbed trucking activity all year round,
the maximum legal speed for tractor trailers in California is 55 mph.
California State Facts:
Major Industries – agriculture (many, many products), oil, mining, electronics, movie making/entertainment, and tourism. All these industries require flatbed trucking services to move freight for them.
Area – 163,707 square miles. California is the 3rd biggest state in the USA , only Alaska and Texas are larger in square footage.
Bordering Body of Water – Pacific Ocean
Bordering States – Oregon, Nevada, Arizona
Highest Point – Mt. Whitney, 14,495 feet above sea level
Lowest Point – Death Valley, 282 feet below sea level, this is the lowest point in the Western Hemisphere too
Main Rivers – Sacramento River, Colorado River, San Joaquin River
Number of Counties – 58
Longest California Highway is CA 1 and it is 655.84 miles long
For transporting your shipments with a Los Angeles freight shipping service, Great Western Transportation is able to handle all transportation services for companies ranging in size from Fortune 500 corporations to smaller enterprises.
Great Western Transportation makes flatbed trucking simple:
We provide service for basic 48/53 flatbed, step decks, double drops, RGNs, maxis, over dimensional, overweight, expedited, and flatbed LTL equipment to haul your shipments.
You will always get reliable pickup and on time delivery.
A single flatbed specialist will be assigned to your freight from the start to the finish of the transaction.
Experts with vast transportation experience and flatbed shipping will handle your over dimensional and overweight loads for safe, reliable, competitively priced and on time results.
Let us prove to you that Great Western Transportation is your Premier Trucking Service.
Call us for information about our trucking services or for a rate quote.
(800) 972-8484
(925) 484-9500
Great Western Transportation 5000 Pleasanton Ave, Suite 145 Pleasanton, CA 94566