Cargo
Many different types of cargo need to be refrigerated during transportation. Most people think of food when they think of the cargo that needs refrigeration. However, life science products, certain pharmaceutical products, and medical supplies belong in that same category. Certain types of perishable items will be more resilient than others.
With certain medical supplies, significant temperature changes during the transportation process can be hugely problematic. Standards for food are often high enough that perfectly edible food might be thrown out if it looks like it got damaged during transportation. Refrigerated trucking companies have to meet high standards for their cargo.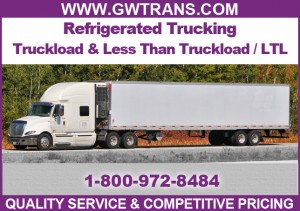 Scheduling
Making good time is always important in the transportation business. However, when perishable goods are being transported, it's even more important to make sure that they reach their destination within a set period of time. Refrigerated trucking companies need to place more emphasis on making good time than other businesses within the industry. Ideally, they should be able to work under short notice. Many refrigerated trucking companies also offer after-hour pick-ups and overnight service. These services have multiple benefits, and they also help to ensure that refrigerated trucking companies will be able to transport perishable goods more successfully.
Serviced Vehicles
All trucking companies need to maintain their vehicles effectively and consistently. However, it is important to note that this is even more essential with refrigerated trucking companies. These trucks use systems that will help to maintain the temperatures that the perishable cargo will need. These systems are inherently vulnerable, even if they have been designed effectively. Servicing the vehicles used in refrigerated trucking is partly about maintaining these systems as well as the overall vehicles.