Importers play an important role in local, state and the federal economy alike. Everything from clothing and shoes to commodities makes its way into our ports. If you're an importer, you are aware of the potential for a delay in delivery. When you've got store shelves to fill, or a manufacturing line that is awaiting parts, you simply can't afford to be held up. If you've got access to the proper equipment and driver, you don't have to wait, if you're picking up at the port. Finally, it can reduce your overall shipping costs, making your business more profitable.
Time-Sensitive Cargo
Whether you are selling a product, or providing components, demand drives your activities. When your goods are in high demand, it's imperative that your cargo is picked up and delivered where it's needed as quickly as possible. Waiting for your deliveries would not only harm your revenues, it will leave your customers in a tough position. You could lose a big contract, or upset enough customers to lose traction in your market. Both of these scenarios are easily avoided by arranging for your cargo to be picked up directly from the port and delivered to your customer, or your storage facility.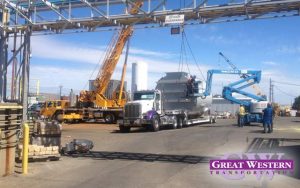 No Wait Time
Generally, cargo containers are removed from the ship and picked up by carriers, intermodal providers and independent truckers. If no one is there to pick up the cargo on delivery day, it is stored at the port for a time. Once transport has been arranged, or becomes available, the cargo is moved on to its destination. Leaving cargo in port to wait in line is only for the very patient. This is especially the case for very busy ports in peak seasons. Your supply chain, however, can remain smooth and predictable, even in the most hectic situations. If your facility is within short range of the port, sending a truck and driver could shave days off the delivery schedule and help you outwit your competition.
Lowered Costs
Let's face it, it's not cheap to import goods into the U.S. There are a myriad of different costs that importers bear including, the product cost, shipping via vessel, storage fees at port, transportation, and the list goes on. While some costs are difficult to change as they are market driven, port storage and transportation can be managed. By reducing the amount of time a container stays at the port, overall costs are diminished. A dedicated provider agreement with a reputable logistics company helps minimize transportation costs and offers other benefits such as improved supply chain efficiency.
Whether you're a novice, or a seasoned vet, of importation, consider the option of picking up future cargo at the port. You don't necessarily need to own equipment, or employ drivers, that part can be outsourced. It's likely that you'll see an increase in your company's profit margins by way of decreased expenses and improved procedures. In addition, you'll garner the appreciation and loyalty of customers.