LTL Trucking or less-than-truckload trucking is a great solution if you don't need a full truck to transport your goods. But LTL refrigerated trucking is a service that's much more specific. You opt for LTL refrigerated trucking when you need perishable items transported, but they don't require a full truck in order to do so. In this situation, your items share truck space with other freight.
Here are 3 important things to know about LTL refrigerated trucking:
SHIPS SMALL QUANTITIES OF PERISHABLES AT A TIME
Trucking companies that offer LTL trucking services don't require a full truckload or trailer of contents. They either offer smaller trailers containing other freight or they'll send full-size trailers with multiple shippers' goods.
LTL refrigerated trucks can be useful when you need to ship sensitive freight, but can't afford to wait to fill an entire truckload because goods awaiting shipment will perish in the meantime.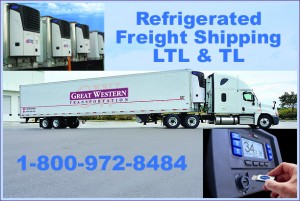 CAN BE DIFFICULT TO ARRANGE
Refrigerated LTL trucking operates on a very limited and specific schedule. Because items that are perishable require refrigerated trucking, it can be harder to schedule a shipment when sensitive freight must share a trailer with other sensitive freight. This means that LTLs must find multiple clients whose products need to be shipped within the same timeline, at the same temperature range. For example, you can't put frozen vegetables on the same truck as produce only requires refrigeration. Frozen products must be grouped with similar items. The same goes for any other products that require similar temperatures to stay fresh. This is not always easy to accomplish and takes a very experienced LTL to execute effectively.
IS TIME-SENSITIVE
Perishable items must be delivered quickly. If not, clients can lose a considerable amount of money due to wasted product. It's best to go with a company that offers expedited transit times.
At Great Western Transportation, we handle time-sensitive LTL refrigerated shipments throughout the Continental United States and Canada. Our experienced drivers will deliver your chilled, frozen and temperature controlled truckload and LTL shipments at competitive rates. For more information about our trucking services, don't hesitate to contact us or give us a call at 1-800-972-8484 today.