If you need to move something incredibly heavy or unusually large, normal transportation solutions aren't going to cut it. From construction vehicles to manufactured house sections, heavy-haul trucking services can get your weighty and oversized loads to their destinations. But you don't just get a big truck with a heavy-duty trailer with heavy-haul trucking. Great Western Transportation offers a comprehensive heavy-haul service plan including three great bonuses that will make your haul much easier to manage:
Secured Wide-Load Permits
Depending on the size and weight of your load, and how far you need to go, you may be required to obtain a number of permits to make the journey. Navigating regional and transportation permits can be tricky business but you don't have to face it alone. Our friendly team will help you line up exactly the permits you need to make the journey.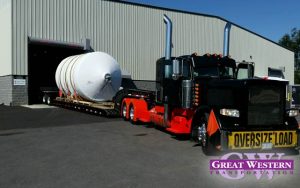 Route Surveys for Road Suitability
Not all roads can handle a heavy-haul load. And many towns don't permit oversized loads to take their high-traffic through streets. Which means you will need to strategize a heavy-haul approved route before setting off on the road. Fortunately, GWT is highly experienced in surveying and planning trucking routes. So you don't have to sweat each individual county regulation. We'll plan the route for you so you can be sure your truck is always safely and legally traversing heavy-haul approved roads.
Safety Escorts to Your Destination
Finally, when you work with Great Western Transportation, you don't have to worry about setting up your own before and behind safety escorts to roll slowly down highways with your heavy-haul truck. Our experienced drivers will take care of this important safety concern and maintain a rock-solid escort fleet. This way, you can be sure that no other drivers will get too close or misunderstand your heavy-haul load.
When you need something unreasonably heavy or oversized transported, don't leave anything to chance. Working with Great Western Transportation, you can be certain that your heavy load will get where it's going with all the right routes, permits, and safety precautions. You tell us where you're headed, we'll take care of the rest.