Heavy haul trucking plays a vital role in the trucking and logistics sector. Heavy haulers streamline the delivery of large equipment and materials.
Heavy haul trucking drivers and fleet managers face different challenges depending on the size of freight and varying state and federal laws. It requires using a private appropriate commercial trailer for regular freight or oversize haulage.
Before you start, it's vital to understand heavy haul transport, types of heavy haulers, laws, and restrictions that may affect your equipment and freight choices.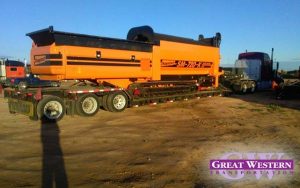 What is Heavy Haul Trucking?
Heavy transportation deals in cargo that is heavier or greater than standard loads. Heavy haul loads usually exceed the standard legal size set by the federal, local, or state governments. According to the U. S Department of Transportation Federal Highway Administration, a heavy haul has these specifications;
Height > 13.6 feet (states can set their own guidelines
Length > 48 to 53 feet
Width > 8.6 feet
Gross weight >80,000 lbs
The maximum size of heavy haul loads will depend on the type of trailer you are using, the state, and the number of axles.
Examples of cargo you can transport via a Heavy Haul Trucking
Timber
Boats
Mining machines
Cranes
Turbines
Excavators
Permits for Heavy Haul Trucking
Before travelling, heavy hauled cargo must get permits and documents. Regulations differ and may require different licenses, ranging from local, municipality-specific, or country-specific permits.
Most states provide oversized cargo licenses to travel within three to five days, depending on state rules. During the week, some states limit the travel hours on heavy haul cargo. Before transporting the load, familiarize yourself with state regulations to ensure that all permits are available.
Conclusion
It's crucial to consider the service quality, speed, loading capacity when choosing heavy haul trucking logistics. Selecting transportation with more options is an excellent way to assure flawless transit of goods across the states and internationally.
Want to learn more? Contact Great  Western Transportation; they have experience of trucking solutions.