Oversized loads and heavy hauls can bring a variety of hurdles and challenges for anyone who has taken on a heavy haul trucking project. Heavy haul trucking projects will come with guidelines and requirements that shippers may not have experienced before, and this can lead to costly complications.
The complications that can be affiliated with the shipment process and the transportation process related to heavy hauls can include choosing the right transportation service for moving the heavy equipment to acquiring the required permits that will be necessary to complete the shipment.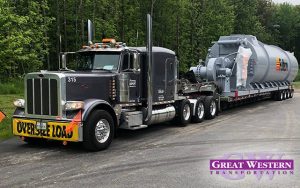 Also, there will be some heavy haul trucking projects that will require additional plans and strategies due to the specific routes that will need to be taken. It is important to find a heavy haul trucking service for the transportation of these shipments. When you are searching for a transportation service that can fulfill your heavy haul and oversized transportation needs, it is important to find a transportation service that is available to all types of customers.
It should not matter if you are one of the major shippers in your industry or if you are an individual buyer, you should be able to receive the professional service you need. You can find a transportation service that will be able to assist you with your one-time project or your regular oversized loads and heavy haul shipments.
With our transportation service at Great Western Transportation, we have the ability to handle the transporting of heavy machinery, construction equipment, and other heavy hauls and oversized loads. If you are preparing to complete a heavy haul or oversized load shipment for a one-time transport or if you have plans to complete consistent shipments, we want to use our trucking experience and knowledge to help you have a successful oversized load or heavy haul project.
Please do not hesitate to reach out to us today for information about our services.