Heavy-haul tasks comprise everything that isn't standard, such as big freight, wide loads, and heavy machinery. Heavy-hauling loads are frequently overweight and enormous, as the term implies. Overweight typically sized cargoes are also included in this category.
Transporting oversize and overweight items necessitates the use of competent, qualified, and particularly licensed personnel and companies such as the Great Western Transportation. The top-heavy haul trucking operators are familiar with the legal constraints of the highway networks in the United States and Canada. Heavy hauling drivers must be capable of driving trucks and trailers that move huge goods as well as coping with the specialized shipping industry's extensive scheduling and licensing process.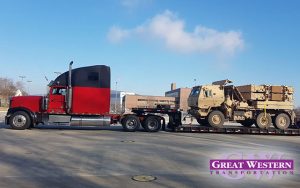 What is a Heavy Load?
Heavy loads are weights that exceed the prescribed recommended limit on many of these roads. While values vary by state, anything wider than 8.6 ft, taller than 13.6 ft, length than 53 ft, or weighing over 80,000 lbs. gross mass is deemed a heavy load.
How Do I Transport My Heavy Cargo?
Transporting heavy cargo often necessitates the use of special trailers and trucks, which come in various types. Some resemble a standard tractor-trailer with a gooseneck that may be removed (RGN trailer). Others are available in numerous pieces, such as articulating trailers with motorized pusher wheels situated at the very back.
What Are the Requirements for Heavy Haul Trucking?
Heavy haul freight needs special paperwork and licenses, which are provided on a per-shipment premise before one can hit the road. Other limits may be in place as well. When obtaining licenses for your cargo, make sure to confirm with your heavy haul freight service provider first to confirm the state's rules.
Work With Professionals
Heavy equipment shipping, whether it's industrial machinery, building supplies, or any other goods that go beyond typical criteria for shipments, necessitates particular handling, route planning, and knowledge to make sure the transportation runs properly.
Great Western Transportation is your ultimate transportation services company across the United States and Canada. With us, you are assured that your cargo will arrive at its destination safely and securely. Please contact us today for your heavy trucking services or to learn more about our services.