Selecting the ideal logistics and hauling company to contract can be a hassle if you are new to heavy haul trucking. Heavy haul trucking can be an enormous challenge when transporting large indivisible machinery to multiple loads. Unfortunately, it becomes difficult and dangerous for a driver during bad weather, leading to an accident or damaged assets.
Whether you are hauling turbines, excavators, boats, timber, cranes, or mining machines, selecting the best heavy haul trucking should come first. This article goes into detail by giving you tips that will help ease selecting the best heavy haul trucking company for your assets and equipment.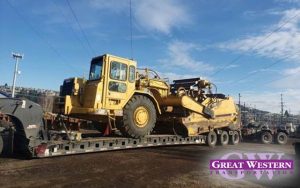 1. Type of Cargo Carrier
It is crucial to consider the ideal cargo carrier when transporting heavy loads. Without the appropriate equipment and tools, one can never succeed in carrying oversized cargo. There are several types of cargo carriers to choose from, including Curtain side, Extendable flatbed, Refrigerated, gooseneck, lowboy, drop deck, dry van, Flatbeds, and larger trailers of 5, 6, 7, 9, 10, 13, and 20 axles. So, when selecting the ideal company, ensure they have the ideal cargo carrier for your equipment.
2. Trip Planning
Planning a trip is one of the essential tips of heavy haul trucking. It ensures timely delivery and easy trucking of your load. Always ensure that the company offers tracking and route studying to deliver safely on time. Keep in mind that a successful drop depends on preparedness and readiness.
Ensure that the company uses the latest technology in identifying traffic updates like construction projects or weather hazards on your route during the day of the trip. Use GPS technology to observe traffic on road and route conditions.
3. Understands the Special Safety Markings Need
Transportation of oversized loads is a big concern to commuters and drivers' safety due to its danger. Heavy haul trucking loads must follow specific operational procedures to maintain road safety and minimize risk during operations.
To signal and alert drivers on the road and general road users. The logistics company should use unique markings applicable for oversized hauling. A distinctive standard mark such as a large burner with a yellow and reflective background should be visible to other drivers.
Conclusion
Transporting this heavy load comes with rewards and risks for a company and a driver. And when selecting the ideal company, consider the above tips.
Are you planning to move or haul a heavy load? Great Western Transportation offers you quality guaranteed trucking services of oversized equipment across the US and Canada. We have the best hauling trucks to ensure timely deliveries. Contact us today for more information.